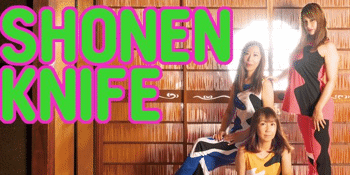 Shonen Knife (In Their Best Place Tour)
With Special Guests
The River (Margaret River, WA)
Friday, 1 March 2024 7:00 pm
As punk as pink can be.
Naoko, Atsuko and Risa make the sugar rush for the stage as these gigantors of Japanese punk pop fire up their quatro decade plus power packs and rocket to their best place… Australia 2024. Hey ho day glo!
Since their humble DIY beginnings in late 1981, Osaka, Japan's Shonen Knife have been building a faithful following of rock enthusiasts and alternative rock elite, their relentless journey securing the band's place as one of the pioneer ambassadors of Japanese rock music and culture on the international stage. The rock and roll dreams of three girls blossomed into a reality and the trio continues now into its 42nd year of international touring and recording with their 20th release Our Best Place released early 23!
"There are few bands I've encountered that are as utterly joyful and life affirming, like their biggest influence [The Ramones] there are few gaps in the set, one track stops and they just launch into the next one, each one a slice of perfection that is even better live than it is in it's studio form. Buzzcocksian guitar riffs pepper a set that takes from 60's girl groups and the aforementioned NYC outfit with their own special undefinable ingredient, an innocence and joy that celebrates those small moments that make life worthwhile, they are incomparable. Influences aside they deliver a set that is just utter joy, each track is delivered with smiles from the stage and a look around the venue just shows utter happiness, no attitudes from band or crowd, everyone is just happy to be here." Night And Day Cafe, Manchester, UK - 28th April 2023
Shonen Knife (meaning "Boy Knife" in Japanese) is an all-female Japanese pop punk band formed in Osaka, in 1981. Heavily influenced by 1960s girl groups, pop bands, The Beach Boys, and early punk rock bands, such as the Ramones, the trio crafts stripped-down songs with simplistic lyrics sung both in Japanese and English. They continue to be the most internationally recognized name in Japanese Rock, the indie darlings of hipsters and rock stars alike, thirty-three years since Naoko and the band began releasing albums of their joyous mixture of pop, punk, food and fantasy for the world to enjoy. Since their inception featuring Naoko's sister Atsuko and their friend, bassist/vocalist Michie, through to their varied lineup changes featuring current drummer Risa, SK have maintained their rightful place in the ever changing indie rock scene. Despite their pop-oriented nature, the trio maintains a distinctly underground garage rock sound rooted in edgy instrumentation and D.I.Y. aesthetics, which over the course of their long career has earned them a solid, worldwide cult following and made avid fans out of seminal '90s alternative rock bands such as Sonic Youth, Nirvana, and Redd Kross. The band has been credited with making "the international pop underground more international" by "opening it up to bands from Japan". They have also performed as a Ramones tribute band under the name The Osaka Ramones and have recorded music for numerous films including the theme song to the popular "PowerPuff Girls" cartoon series. Shonen Knife has toured worldwide playing their unique brand of sugar-pop-rock touring in the US, Canada, UK, Europe, Japan, China, Australia, Thailand and thickening their rich syrup as a band with each and every release.
"Authentic, moving and daft, and the true heirs to the Ramones, Shonen Knife are just great." - Classic Rock Magazine
40 years of Japanese rockers Shonen Knife: 'Nirvana looked wild – I was so scared!'
SHONEN KNIFE Our Best Place OUT NOW on digital, CD and VINYL