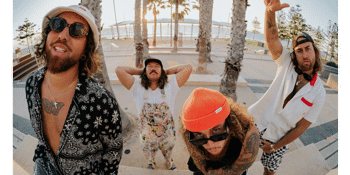 Lonely Lands Agency & Ember Artists Presents
Coterie - The Lush Leopard Regional Summer Tour
With South Summit & Dulcie
The River (Margaret River, WA)
Sunday, 4 February 2024 6:00 PM
Coterie Announces The Lush Leopard Regional Summer Tour with 22 Shows Across Australia
and New Zealand

Perth-based, NZ born band of brothers, Coterie, are set to take the stage by storm this
summer with their highly anticipated 'Lush Leopard Regional tour'. Known as "the most
electrifying live band either side of the Tasman", Coterie have been making tidal waves in
the music scene for the past 18 months.

Fresh off their win as 'New Artist of the Year' at the prestigious 2023 Rolling Stone Awards,
Coterie have been making headlines since their breakout hit 'Cool It Down' reached
platinum status in 2022. Topping the Radioscope NZ airplay chart and claiming the coveted
#1 spot, the band has garnered over 30 million streams, achieved 1 platinum and 4 NZ Gold
records, and received 5 award nominations at this year's Waiata Maori Music Awards. Their
success has also led to back to back sold-out tours alongside renowned acts such as Six60,
Lime Cordiale, The Cat Empire, and Sublime across Australia, New Zealand, and the United
Kingdom.

Lead vocalist Tyler Fisher expressed his excitement about the upcoming tour, stating, "After
15 years of jamming in our dad's garage, it's incredible to see our live show evolve into
something of this magnitude. At the end of the day, we're just local boys who want to share
our music with all of our mates as much as we can!"

Youngest brother and guitarist Conrad Fisher added "But we also wanted to keep this tour
feeling local so we've stayed away from major cities this time around and stuck to the
beaches and lakes".

And speaking of mates, Coterie are not shy to share their platform theirs! Joining them on
various dates throughout the tour will be the likes of Muroki, South Summit, Bootleg Rascal,
Dulcie, Paige, Sophian, George Villa, Aacacia, and Cloe Terare.

Tickets on sale November 9th.

For further details and ticket information, please visit www.coterieclubcc.com.

The Lush Leopard Tour is proudly brought to you by The Edge/Mai FM, Byron Bay Brewery,
Nandos, Spark, Billy Bones Club, Adrenaline.com, Ember Artists, Eccles and Lonely Lands
Agency.