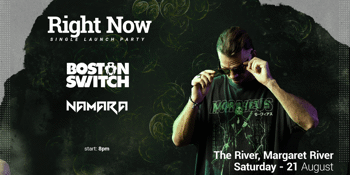 Electric Button presents
Boston Switch
with special guests NAMARA
The River (Margaret River, WA)
Saturday, 21 August 2021 7:00 pm
Giving electronic music enthusiasts something to rave about, Blake McDonald the producer behind the name Boston Switch is the Western Australian, setting off electronic release radars across the shores and raising every room's energy. The producer, DJ and notable pro surfer has been laying down the law with his alluring bass and tech house notions, attaining over 300,000 streams, a barrage of YouTube spins and enviable spots on some of the country's most renowned events and festivals, while also being nominated for Western Australia Music's Regional Song of the Year award.
Delivering a wealth of standout productions, the Boston Switch sound is dance floor confronting and a true indication of his tech and bass house tenacity. Releasing on Jendex Records, Crookwell and recently on Dirty Dog with the single 'Summer Sun', Blake's tempered sonic spotlight has proven worthy of tastemakers globally. 2020's release 'Let Me Know' tapped just under 100k streams in a little over a month, while his collaboration 'Better Alone' with Ash Pluggy has attracted over 180k plays on Spotify and over 200k on YouTube. In between studio sessions and surfing with the Cw Surfboards team, Boston Switch's mixtapes set the house scene ablaze, with Switch Tapes and Boston & Bros featuring 30 min guest mixes from fellow industry pioneers.
No stranger to the festival circuit, Boston Switch's highly trimmed bass house cuts and signature tech house hues have been a favourite of many for some time, both as an artist and organiser for regional Western Australia's Electric Button Events. From Factory Festival, Stereosonic, Southbound, Enchanted Gardens and Future Music Festival across Australia to Thailand's Fishbowl and Greek Islands Far Out Beach Club, Alt Bar and Escobar, Blake's searing catalogue of spawning crowd heaters have set alight crowds across the seas. Commanding attention globally with his mastery from the studio to the stage, it's a true testament to the Boston Switch signature sound.