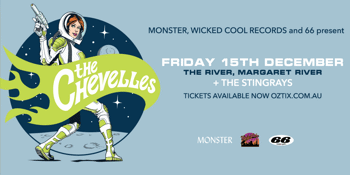 The Chevelles
with special guests THE STINGRAYS
The River (Margaret River, WA)
Friday, 15 December 2023 7:00 PM
The Chevelles – are heading out on our 30th Anniversary Spanish Tour, 16th — 30th January 2024. Celebrating the 30th year Rock and Roll Anniversary of The Chevelles first tour of Spain and the releases of their seminal albums "The Kids Aint Hip" and "Gigantic"

HOWEVER, FIRST (and most importantly) The Chevelles (plus special guests THE STINGRAYS -surf guitar) play THE RIVER, Margaret River on Friday 15 DEC 2023…..

With the return of original gang member and drummer Dave Shaw (The Stems, Neptunes), this classic Chevelles line up is back!!!! We are very excited to get back on the road and do what we love and do best- play high octane, live sweaty, balls2the wall Rock and Roll.